The city of San Jose lies 50 miles south of San Francisco in the southern portion of the San Francisco Bay Area. It is located in the Santa Clara Valley, surrounded by the Santa Cruz Mountains to the east and the Diablo Range to the west. San Jose is the third largest city in California, and the tenth largest city in the United States, with a population of just under one million. It is also the largest of a number of cities composing the region known as "Silicon Valley" for its strong presence in the information technology arena.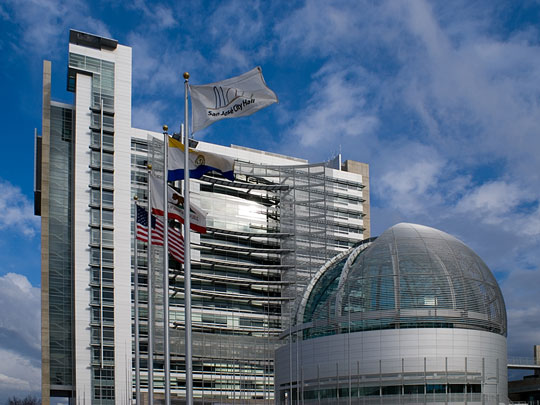 San Jose City Hall Rotunda
The region was originally inhabited by the Native American Ohlone people for over 1,000 years until the arrival of white settlers. In 1777, San Jose was named El Pueblo de San Jose de Guadalupe and became the first civil settlement in Spanish California. After California gained statehood, San Jose briefly served as its first capital from December 15, 1849 to May 1, 1851. San Jose first developed as an agricultural center and was home to many orchards and vineyards. Eventually, urbanization covered the farmland with concrete, strip malls and housing developments, and California's primary location for wine production moved to the Napa Valley.
San Jose is known as the birthplace of the semiconductor, the integrated circuit, the computer, and much of the software that runs on it. It is the number one hub for technology in the United States and many big names are headquartered here, including Lockheed Martin, Apple, Intel, Hewlett-Packard, and IBM. The city boasts an educated population, along with excellent career opportunities, a mild climate, and low levels of crime. However, San Jose is crowded and residents must contend with difficult commutes and a cost of living that is the second highest in the nation. The region is also particularly susceptible to economic cycles. Summers are typically dry and sunny with marine "fog" that begins in the evenings and burns off by mid-morning the next day. Winter is usually mild and can be somewhat rainy. The city of San Jose is easily reached by car, bus, train, or air to San Jose International Airport.
Metropolitan San Jose Map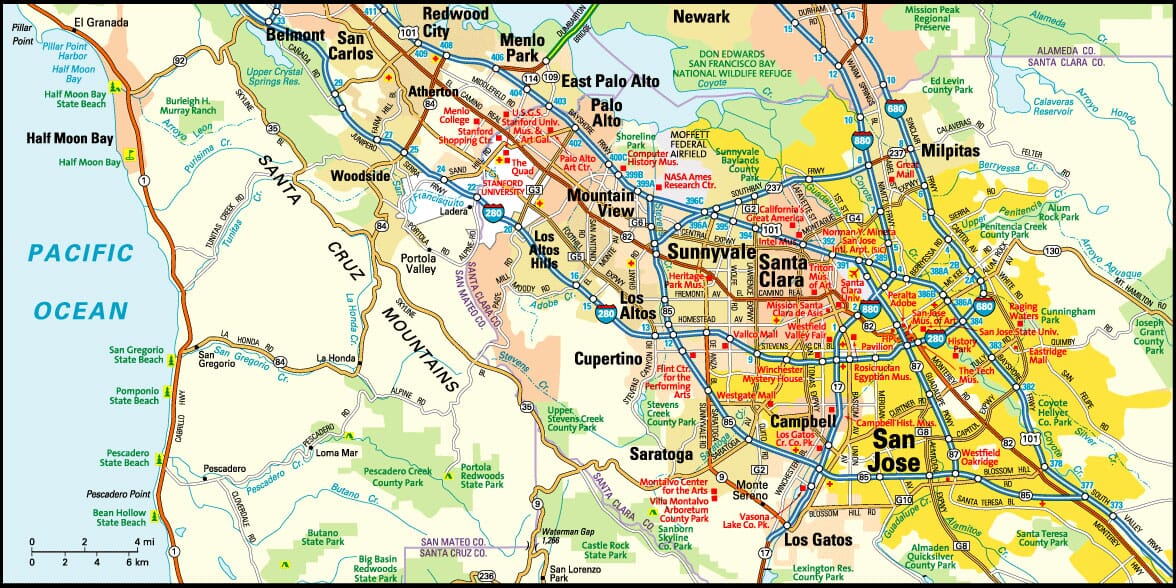 Select one of the above menu options
to display an interactive city map here.
The center of San Jose, California is located at about 37.33 degrees North (latitude) and 121.88 degrees West (longitude). The city occupies approximately 174.9 square miles in land area; according to the 2010 census, San Jose's population was 945,942.
San Jose Information Directory
In-depth San Jose information and news can be found on these regional San Jose Libraries and San Jose Newspapers pages, respectively.
---
Copyright © 2012- San-Jose-Map.com.
All rights reserved.

Map of San Jose, California