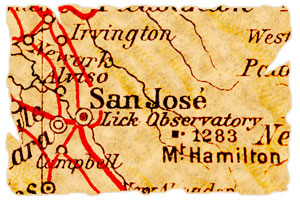 San Jose is known as the birthplace of the semiconductor, the integrated circuit, the computer, and much of the software that runs on it. It is the number one hub for technology in the United States and many big names are headquartered here, including Lockheed Martin, Apple, Intel, Hewlett-Packard, and IBM. The city boasts an educated population, along with excellent career opportunities, a mild climate, and low levels of crime. However, San Jose is crowded and residents must contend with difficult commutes and a cost of living that is the second highest in the nation. The region is also particularly susceptible to economic cycles. Summers are typically dry and sunny with marine "fog" that begins in the evenings and burns off by mid-morning the next day. Winter is usually mild and can be somewhat rainy. The city of San Jose is easily reached by car, bus, train, or air to San Jose International Airport.

This San Jose directory provides convenient access to a broad spectrum of enterprises that are located in San Jose, California. In-depth information and news about San Jose can be found on these regional San Jose Libraries and San Jose Newspapers pages, respectively. Visitors to San Jose will find this San Jose Visitors Guide website useful.
---
Copyright © 2012-2021 Zeducorp.
All rights reserved.

Interactive Maps of San Jose